Unique to CBC/Radio-Canada, this responsive format guarantees excellent visibility for your ad by taking up the top half of the screen (up to 600 pixels), regardless of the device used.
CONTENT SPECIFICATIONS
---
The Half-Page format is produced by our in-house teams.
100% commercial creative – no restrictions.
Must comply with CBC/Radio-Canada Advertising Standards and IAB standards.
Concept with simple animation
REQUIRED MATERIAL
---
Submit your production request and related material to your sales rep.
Please provide the following IN PSD FORMAT WITH LAYERS (Photoshop or Illustrator file with isolated elements):
OPTION 1
Provide the three main ratios:
2:1 (1200x600 px) desktop
4:1 (1200x300 px) tablet
1:1 (1200x1200 px) mobile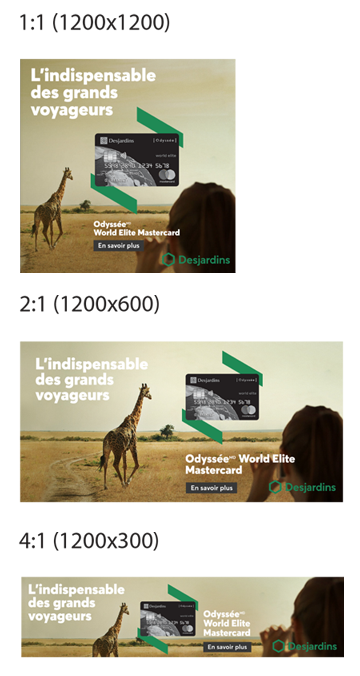 OPTION 2
Separate graphics (working files) with sufficient resolution to cover 1200x1200 px
Creative brief or mock-up describing your concept
Production deadlines vary depending on the complexity of the creative.
Static concept: 4 business days upon receipt of material
Concept with simple animation: 7 business days upon receipt of material
Complex concept: TBD